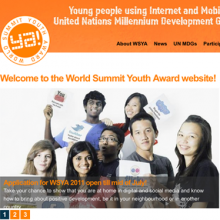 Kunde:
ICNM - International Center of New Media
Mitwirkende:
Thomas Renner, Markus Rössler, webshapers GmbH


Ulf Harr
One of the extremely fresh looking, youth-style community pages on the webshapers' portfolio is the recent rebuild of the World Summit Youth Award website. Social connect & a choice of menu blocks, plus various dynamic displays for the multiple content types went hand in hand with a prompt implementation on Drupal 7, with elegant front page with a complex panel configuration and up-to-the-minute modules selection. Nothing more to say, but: One more page on the web that the webshapers gave a fine data structure, attractive dynamic content display, robust back-end management and youth-styled social connect functionality. And rounded corners on Internet Explorer! Meet the beauty.